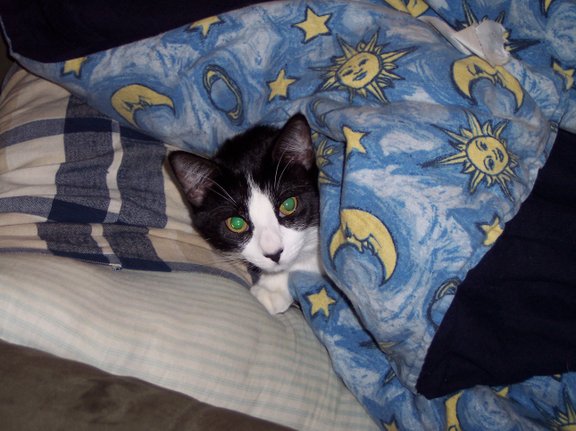 If it looks like I'm a little embarrassed and hiding, it's because I am. Many of you know I am trying very hard to become a nice gentle ladycat. I'm already having trouble with it due to my clumsiness, naughtiness, and lack of manners sometimes. But now it's even worse. This morning at about 5:30, I yakked up a hairball. It wasn't pretty. It wasn't dainty. It certainly wasn't ladylike.
Mom woke up when it happened, because she felt Mattingly (who was sleeping against her) jump up and move to the end of the bed. Then she heard the yakking sounds and bolted up because she thought he might be getting sick in the bed. But then she saw me on the floor at the foot of the bed being really gross. I was so embarrassed that both Mom and Mattingly saw. Mom said "Oh you poor thing. I was wondering when you would get one of these. You ok? Is it all up now?" But her nice words didn't ease my shame. When it was over I ran away and tried to hide in the kitchen.
Mom cleaned it up and said she was glad for once that the bedroom was messy because I threw up on some dirty clothes that needed to be cleaned anyway (she really didn't want to scrub the carpet at 5:30am). Then she praised me again for keeping it all on one shirt. Well, honestly, I wasn't trying for anything like that. I just didn't feel good and then there it was. I wouldn't let Mom pet me or anything, so she went back to bed. But then I went into bed with her later and purred for her so she wouldn't worry. And that made her happy. I'm just trying to keep a low profile for the rest of the day. Mom would like me to add, for all the lady beans out there, that Dad slept through everything. And she thinks that's typical. Whatever. I'm going back to my hidey spot.