Hi Everykitty!
Sorry to cause you concern with my absence. As I mentioned in my last post, Mom and Dad have been very busy. Also we have been without our laptop that lets us do things on the internet from our air conditioned living room, and it's been too hot to sit in the office and try to update things. But Mom finally decided it was time and today it's not too hot to sit in the office. So here we are catching you up on lots of things that have been going on! We even updated links and stuff on the sidebar!
First I need to tell about the fun things that happened in June. I won't cover everything in this post, but at least I can get a few things down. The first big event for me in June was Oreo's Party! Since I turned one year old at the end of May, Mom says I am old enough now to visit friends and go to parties if I like. Unfortunately, I made it very late to
Oreo's party
. When Mom returned from her trip to Japan, her back was hurting her very very bad. That weekend I had to stay around home to give her the love she needed and to help out with Harlie. Finally that Sunday afternoon Mom said it was ok for me to go. I was very nervous because I was meeting everyone for the first time, and because it was my first teleporting experience. But I had a blast! Everyone was so nice and I had so much fun. Thanks Oreo for inviting me and throwing such a great party! Hopefully next party I can stay longer and have more to update about!
The next big thing to happen was of course the Torch Relay for the
Catolympics
! The first thing I had to do was wait for
Meeko and Kiara
to get to my house! They brought the torch all the way from Texas! I already blogged about
when they got here
, but I didn't yet get to show pictures of their visit! First Mom took some (embarassing) photos of me giving the lovely ladies some baths when they got here. They were very tired and deserved to be pampered I thought. I don't want anyone to think I'm not a good host!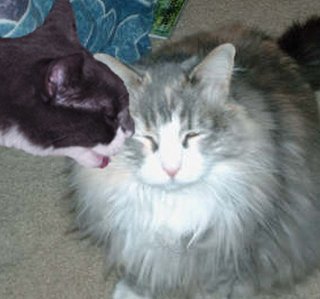 Meeko seemed to like her bath!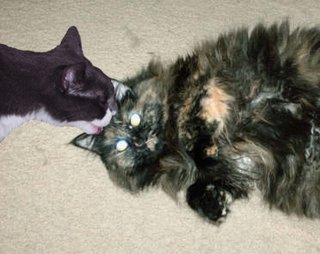 So did Kiara!
The next day we did a little bit of sight seeing in Mew York City before I left on my leg of the relay to go to Catifornia. The camera was acting funny, so Mom didn't get as many pictures as she would have liked, but she got pictures of us at the site of the World's Fair, and crossing the Brooklyn Bridge. After that the camera gave out so we didn't get any photos at the Statue of Liberty or the Empire State building. But that's ok because we still have the great memories!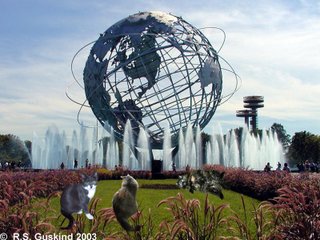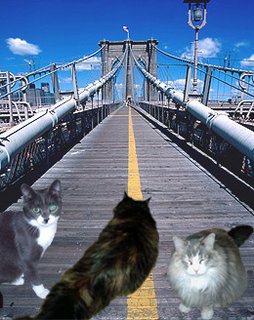 It was so nice to spend so much time with Meeko and Kiara. I think it's a good friendship now!
Then I was off to the west coast. When I got there, DK and gang were very generous to allow me to be a guest blogger and together, all the details of that part of the trip were covered. It seems I was very excited about the whole thing. I hope I didn't cause DKM
too much trouble
! I was so nervous about meeting the fluffies, but it was great and I got to learn to do binkies! They took me on a wonderful tour of San Francisco, which
I documented on their blog
. And then it was such a wonderful surprise that I got to go along for
Sophia's hand-off
to
Max
! I'm embarassed to admit that I was almost star-struck when I met Max (ok I was totally star-struck). I mean this guy is a super blogger, is totally in charge, and has written not one but
TWO
books! Not to mention he was the one behind
Harlie's name
! Max also
wrote about that day
, so I don't think there's much left for me to document.
I just have to say the whole thing was such a great experience! In my next post I'll talk about my experiences at the Catolympics, but after all this work on my blog today, I need to go take a nap!