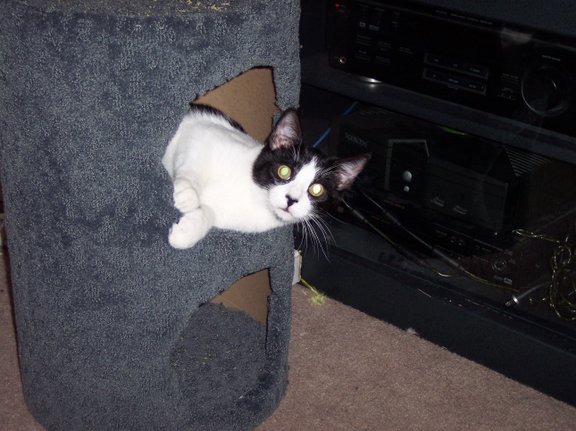 Hi everykitty. Mattingly is not doing a good job of updating the blog regularly so I'm going to give it a shot for a bit. It's good timing because I need to get something off my chest so to speak.
Some of you have blogged in the past about nicknames given to you by the humans you live with. It's time to let you know about my nicknames. I'm hoping if I put this out there on the internet, and my parents see how ridiculous they sound, they may go back to calling me Harlie. I like my name. Unfortunately, Mattingly is the only one in this home who uses it! The first nicknames weren't so strange, though some of them may have been a bit rude. They called me
Goofy, Silly, Crazy, Crazy Eyes, Krazy Eyes Kitty
(adapted from a character on a Curb Your Enthusiasm episode)
, and sometimes Mom even called me
Princess.
Often I would also just be called

Kitten

. Also I have the nickname

Chitten

which is related to Mattingly's nickname of Chatten (another story there for another time). It's nice to have names that go together at least.
But recently, Mom came up with
Harles Barkley
(as in the basketball player). This made Dad laugh a lot. So then I became Harles Barkley. They tried to come up with other famous Charles', but only came up with Charles in Charge and Charlie Brown. So then Dad thought of
Harlie Barkley Brown
. This made Mom laugh a lot. Then they though it was hysterical say my "last name" first, and started calling me "Barkley, Harles"... and you have to pronounce the "," so they really say "Barkley Comma Harles". Finally, they are loving the Barkley, so I am often called just
Barkley
or even
Barkles
. THIS IS THE NOISE A
DOG
MAKES!!! They are using me for jokes... for their own amusement! The INDIGNITY of it all! I hope that by coming forward with my humiliating story, it will help to save not only me from further humiliation, but maybe even some of you who have to suffer with completely ridiculous nicknames.
Oh, and in other news we are moving in two weeks, so there will be a decreased incidence of blogging over here since there is a lot to do to prepare. I don't really know what that means, but that's what Mom told me. This is pretty much the only home I've ever known. Mom and Dad assure Mattingly and me that we will like the newer place better because it's much bigger. I guess we'll see. Mom says it's going to get weird around here first. I'll keep you posted!